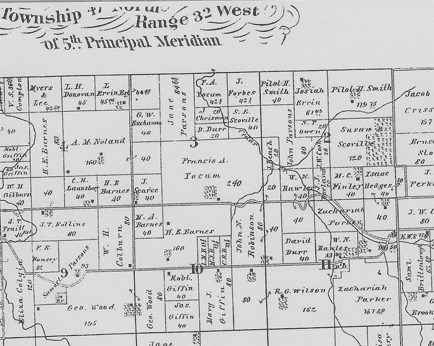 Historical Overview of 19th Century Stone Culverts
Longview Road, Lee's Summit, Jackson County, MO.
A section of Prairie Township, Jackson County, MO, 1877
Two stone culverts located on Longview Road in Section 11 of Prairie Township, 47N Range 32W, Jackson County, Missouri, were most likely constructed c. 1870s.  The larger of the structures is situated approximately one hundred feet west of the northwest corner of Pryor Road, while the second and smaller culvert is located approximately fifty-feet west of the same corner. Both culverts are of stone masonry and provide crossings for a branch of Cedar Creek which runs northward and empties into the Little Blue River. Longview Road (originally called the Hickman Mills-Lee's Summit Road, and later the Red Bridge-Lee's Summit Road) appeared in an 1877 atlas of Jackson County. As illustrated in the atlas, the section of road where the culverts are located formed the property lines for land belonging to Zachariah Parker, W. N. Rawles and R. G. Wilson, all early settlers of Prairie Township. Mr. Parker was the oldest resident, at the time, having settled his property in 1855.[1]
Indexing for Jackson County Court records between 1827 and 1884, Books 1 through 22 respectively, list numerous petitions requesting road and bridge construction from county landowners. Because of data included in these records, the culverts on Longview Road may be attributed to a Jackson County stonemason named Caleb Stone. His name was listed as the payee for work completed on many stone culverts and bridges constructed throughout Jackson County between 1865 and 1880 including repairs to Red Bridge in 1879 as well as stone culverts along Scruggs Road and the Hickman Mills-Lee's Summit Road (see above).[2]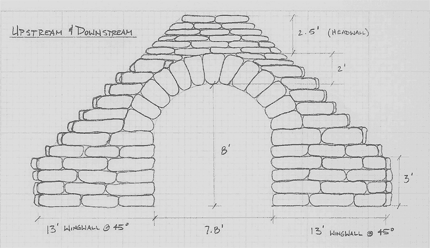 Culvert No. 1, Longview Road, Lee's Summit. Source: HNTB Company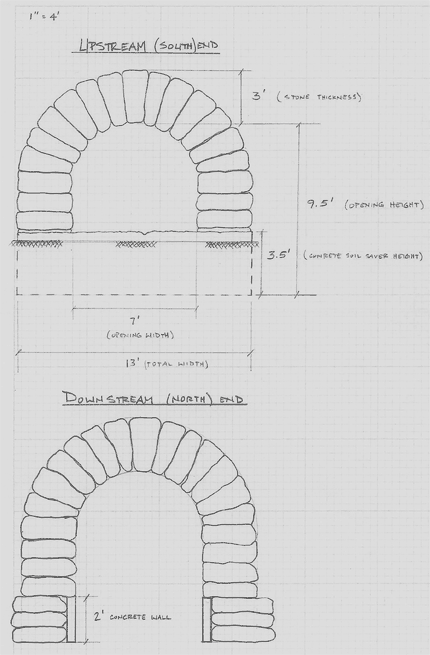 Culvert No. 2, Longview Road, Lee's Summit
Source: HNTB Company, Kansas City, MO
Found within the Court records is a single entry for a bridge constructed of iron and wood with stone masonry piers dated c.1870. The bridge, located over Cedar Creek on the north side of Longview Road on Pryor Road, is situated approximately one-quarter mile east of the smaller culvert. The court record of the bridge's construction covered over three years of entries that were made between 1868 and 1871. After close examination of the stone piers, it is probable that they were constructed during the same period as the culverts, as their size, color, and masonry technique are quite similar.[3]
Physical Description
Culvert No. 1:
The total height of this culvert, from flowline to top of wall, is 12.5 feet. The opening measures 7.8 feet wide and 8 feet in height to center of arch. Each wingwall, placed at a 45-degree angle, measures 13 feet. The voussoirs are approximately 2 feet thick.
Culvert No. 2:
The total height of this culvert, from flowline to top of wall, is 12.5 feet. The opening measures 7 feet wide and 9.5 feet in height to center of arch. Total width of the culvert is approximately 13 feet. The voussoirs are approximately 3 feet thick.   
Prairie Township
The present boundaries of Jackson County were established in 1835. Prairie Township was not established until a county court order cut it off from the western part of Van Buren Township on June 4, 1860. Prairie Township is located in the most central portion of Jackson County and contains approximately 71,689 acres of land. It was reported to have been highly cultivated. A heavy growth of timber grew along the creek and stream beds taking up one-tenth of the acreage.[4] In 1881 there were three hundred and ninety farms, averaging one hundred and sixty acres in size, located in Prairie Township. The local farms produced hay and grain as well as the raising of livestock. The Blair Brothers, West Missouri Nursery, Robert Watson and Company, and J. B. Bailey and Company were among important fruit growers located in Prairie Township.[5]
By 1865, the Missouri Pacific Railroad ran northwest and southeast through the center of the township providing accommodations for both passengers and freight. In conjunction with the arrival of the railroad, the City of Lee's Summit, located in the middle of Prairie Township, was platted in October 1865 by William B. Howard, Esq. Originally founded as the Town of Strother, the name was changed in 1868 when the town was incorporated as the Town of Lee's Summit. It was named after Dr. Pleasant Lea, one of area's early settlers. Legend states that the name was spelled wrong on the side of the Missouri Pacific depot and has remained Lee's Summit ever since. The reference to Summit was made because Lee's Summit sat at the highest point of elevation along the Missouri Pacific Railroad between St. Louis and Kansas City.[6]
Longview Road
The Hickman Mills-Lee's Summit Road, now Longview Road, was an important thoroughfare in Prairie Township. As a "farm to market road," it started in the Hickman Mills area of Washington Township in the east, traveling east as it cut through the center of Prairie Township into Lee's Summit along the Missouri Pacific Rail line. Prior to the 20th Century, road and bridge construction in Jackson County consisted of little more than petitions to county government from landowners to survey property lines for the establishment of roads. These "market roads," as they were called, followed the boundaries of one property to the next. The farmers used these roads when delivering their produce to early market centers. Atlases before 1900 record the jagged paths that these early roads formed along the property lines in each county.
Bridges and culverts were handled in a similar manner. Property owners would agree to build a crossing over a streambed. At times, a crossing was no more than a ford, while others could be as elaborate as a covered wooden bridge on a stone foundation. The amount of traffic on the road and the use of the crossing determined the type of road and/or bridge that was constructed.
 Responsibility to oversee the construction of early county roads and bridges approved by the Jackson County Court system was the job of county assigned road and bridge commissioners. T. C. Lea and J. Stayton, served as commissioners between 1868 and c.1880.[7] Such assignments were often politically motivated, particularly in the case of smaller roads where large land owners were assigned as road overseers.

Good Roads Association in Jackson County
The "Good Roads Association" was established in Missouri in 1891 and was followed by similar organizations across the United States. This was the beginning of the "good roads programs" that eventually led to the interstate road system. About the same time, residents of several counties in New Jersey proved to the state government that traffic on many of the county roads was not only local but included inter-county traffic as well. This gave the counties the ability to leverage the state into shouldering the cost of building and maintaining roads. The actions taken in New Jersey set precedence for the rest of the country and gained momentum until road and bridge construction was placed under the jurisdiction of state and federal guidelines to insure nationwide uniformity in the construction of the interstate road system. In doing so, funding for county road improvements was guaranteed.[8]
Road improvements in the United States during the early years of the 20th Century took on a primary interest as the automobile was quickly becoming the moving force behind transportation. City roads were planned and maintained by the city whereas county roads became the jurisdiction of the county government, Jackson County had been handling transportation concerns in this manner since the 1870s.
In 1908, through 1912, Jackson County Courts came under public scrutiny for poor accounting practices in contracting construction of their county roads. Contracts were often given to favored contractors but never recorded. The political issues included graft through kickbacks as well as hiring relatives and friends in lieu of experienced road builders. The roads built just prior to this investigation were showing signs of deteriorating conditions. When the contract procedures and expenditures were examined, contracts were written but cost bids were never recorded. Contractors were found to be billing what they pleased. In some cases, entire contracts were missing from the records.[9]
By March 1910, Jackson County had 1,200 miles of earth roads traversing the county. Road construction, at this time, was managed by forty overseers of the Jackson County Road Overseer's Association. Many of the disputes prior to 1910 centered on boundary issues and the fact that overseers received little pay, contracts were very informal and often non-existent. Kickbacks and graft were common.  Between 1908 and 1912, Jackson County Court was under investigation by the state for misuse of tax payer money.[10] 
There were no incentives for the overseers to repair the poor condition of the roads unless money could be made in the process. This old system reopened the door to the political graft that existed within the Jackson County court system in previous years. A resolution was passed in 1910 that gave the overseers a salary of $2.50 per day and barred them from having any direct control over road management and construction but the problem of hiring favored contractors continued.[11]
Also, during this period, automobiles were quickly taking over the roadways throughout Jackson County. Major road improvements were necessary to insure the county's continued growth. Bridges were an integral part of improving county roads as road crossings were necessary for the many rivers and creeks located in the southeastern portion of Jackson County.
As a progressive county, the "Good Roads Movement" was introduced to Jackson County voters in 1916. On June 26 voters approved a $1,250,000 bond issue for road and bridge improvements. The county court hired Colonel E. M. Stayton, Jackson County engineer, to design their roads and bridges. Much of the work was delayed by the United States involvement in World War I but was resumed by 1920.
In 1928, Judge Harry S. Truman was instrumental in the hard paving of the old gravel and dirt county roads that were known as "pie-crust" roads. Three miles of Red Bridge Road to U. S. Highway No. 71 was slated for paving in 1930. [12] The engineering firm of Stayton and Veatch were responsible for the planning. By April 18, 1930, work had begun on Red Bridge Road from Hickman Mills to Lees Summit (Longview Road).[13]
Jackson County engineering records, from May 12, 1930, indicate that the two stone culverts in this study were in good condition and would remain in place. The plan for the large culvert indicated: "STA.535+34. 7 x 8 STONE ARCH 30 ft. LONG. 6' TO SPRINGLINE. USE IN PLACE." Minimal repair work or possibly an extension was indicated for the smaller culvert, as listed on the plans: "STA.540+83-2.5' x 2' STONE BOX 37'LG. BUILD HDWLS. & USE IN PLACE 41 CU.YDS. RUBBLE MAS'RY. REQ'D."[14]
The county road improvement plan also listed the names of property owners along the Red Bridge-Hickman Mills-Lees Summit Road (Longview Road). The names of W. Rawles on the north and R.G. Wilson, Jr. on the south were also listed on the 1877 Atlas.[15]
Although Longview Road continues to serve the residents of Lee's Summit, it became a residential artery leading into the city after the construction of Longview Lake by the Army Corp of Engineers in the 1980s.
Summary
Using information obtained from the county court records, research indicates that the two stone culverts on Longview Road over the branch of Cedar Creek are fine examples of mid-to- late 19th century stone masonry. Between 1865 and 1879 numerous entries were found in the Jackson County Court Records in reference to road, bridge and culvert construction, as well as road and bridge improvements. All construction of bridges, roads and culverts were the result of petitions from local land owners. Some petitions that appeared in the court records were submitted by groups of landowners or town representatives, as was the case for the Hickman Mills area.
Reference to the establishment of Prairie Township appeared in the court records on June 4, 1860. Thereafter, many references were found on road and bridge petitions that were submitted by local land owners as well as references to bridge and road inspections made by T. C. Lea and J. Stayton.  County records on stone masonry for culvert construction frequently listed Caleb Stone as payee. Although Caleb Stone never appeared in the index as an individual entry, these two culverts may be attributed to his work as a stone mason of Jackson County. Stone often appeared in payee records in conjunction to inspection entries by either Mr. Lea or Mr. Stayton. Without the exact name of the petitioner(s) for the two culverts, it is difficult to obtain the exact date of their construction.
Bibliography
"Bond Issue to Build Roads." The Kansas City Post 9 May 1928.
"Good Earth Roads in Jackson County." Western Contractor Vol. 18, 23 March 1910, 1.
History of Jackson County. Kansas City: Union Historical Company, 1881.
Jackson County Archives. Jackson County Court Records: 1826 -1882. Index I and II, Book 1 through 22.
"Jackson County Court, Road Building Investigation." The Kansas City Journal 8 February 1908.
Jackson County Engineering Department. "Holmes Street to Lees Summit: The Red Bridge-Lees Summit Road," Jackson County Road Plan Notebook: 131 and 132, May 12, 1930.
"Prairie Township." An Illustrated Historical Atlas Map of Jackson County, MO, 1877.
Philadelphia: Brink, McDonough and Co., 1877.
"Road Building Investigation." The Kansas City Journal 8 February 1908.
Stayton, E. M. and N. T. Veatch, "Report on Additions to the County Highway System of Jackson County Missouri," 1930.  KC2365. Western Manuscript Collection, University of Missouri, Kansas City Missouri.
U. S. Department of Transportation. America's Highways: 1776-1976.  Washington, DC: U. S. Government Printing Office, 1979.
Prepared for:                                                            
HNTB Corporation
Overland Park, KS